This musical instrument – The Encephalophone – is a direct interface between the musician's cerebral cortex and real-time musical composition and improvisation.  It combines electroencephalogram (EEG), complex signal processing, and digital music algorithms.  The instrument's user creates music using conscious intentional control, without movement or muscle activity.  Experiments have proven the efficacy of the instrument from a scientific point of view [1], and public performances have demonstrated it's creative potential.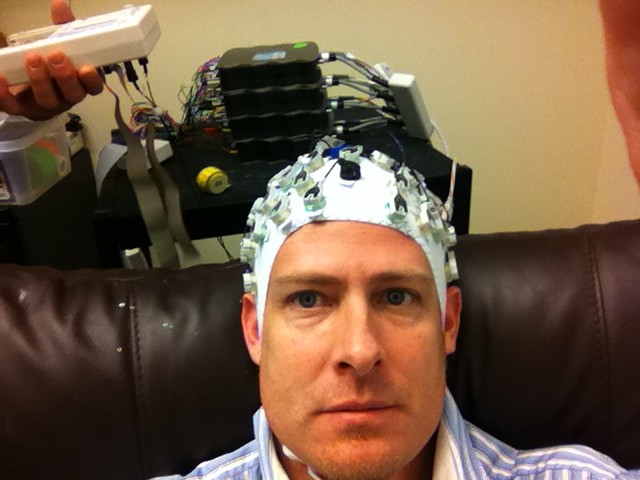 The Encephlaophone – helping patients heal and thrive through music
Music is fundamental to the human experience. So many of life's big moments are made richer through music, from holiday gatherings to school dances to weddings. Music can also help us heal. Studies show that, in addition to serving as an effective therapy for emotional relief, playing music can help improve immune function, ease stress and even reduce physical pain[2].
For patients with neurological conditions such as multiple sclerosis (MS), stroke or amyotrophic lateral sclerosis (ALS), motor impairments can make it difficult or even impossible to reap the rewards that playing music can offer. The situation is even more difficult for patients who are active musicians, as losing their musical ability can mean losing a treasured part of their identity. But now, this innovative device can offer new hope to patients with neurologically-related motor disabilities.
The Encephalophone is a hands-free musical instrument specially designed for patients with limited or no mobility.  Simply by thinking, patients can play a favorite song or melody on the encephalophone—and engage in a fun, therapeutic activity that once seemed beyond their reach.
[1] Deuel TA, Pampin J, Sundstrom J and Darvas F (2017) The Encephalophone: A Novel Musical Biofeedback Device using Conscious Control of Electroencephalogram (EEG). Front. Hum. Neurosci. 11:213. doi: 10.3389/fnhum.2017.00213
[2] American Psychological Association. http://www.apa.org/monitor/2013/11/music.aspx
_____________________________________________________________________
2017:
Clinical trials begin in October for patients with motor disability.  Paralyzed patients are enabled to play music again in real time without requiring movement.
2016:
Featured performances as part of 9e2 Seattle Art, Science and Technology Festival, October 2016:
Demonstration at Art Neureau festival May 2016:
2015:
Public Debut of The Encephalophone in a performance at the 2015 Megapolis Audio Art Festival in Oakland and San Francisco CA:
http://megapolisfestival.org/schedule/